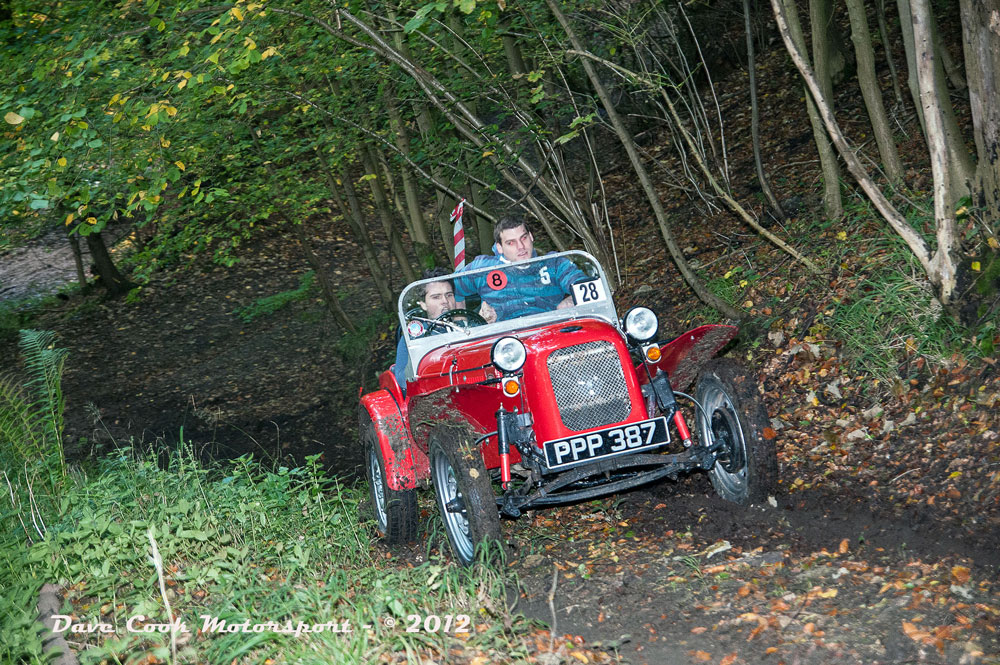 Josh Moss in PPP 387 on the 2012 Ebworth Trial.
Photograph by Dave Cook
This post (originally a page on this website) is the result of a trials-related "London Bus Syndrome" – most of us had never heard of the Gregory until along came two of them.
3 November 2007. The first item was in John Aley's MCC News of the Week.
Then there's the Gregory. It seems there was more than one of these and one, with a Ford V8 engine was rebuilt to a very high degree about 20 years ago. The question arose because this one, which is described as a Dellow like car with a V8 engine, is being rebuilt by the son of Les Leston – a name which will be familiar to many as the first purveyor of Go Faster goodies from his shop in Holborn.
10 November 2007. This prompted a response in the following News of the Week.
More on the Gregory: Thanks to Arthur Vowden for contributing this: During the 1980s a Gregory Trials Special was campaigned in MCC and Southwest ACTC events by John Clarkson of Camelford. It was a Dellow lookalike but with a square nose front and cycle wings. It was Ford 10 based with the transverse spring front suspension. The engine and gearbox were Ford 1500cc pre-crossflow (Added later – originally 1172), its registration number was PPP 387. John advertised it for sale in the September issue of Wheelspin. By coincidence the same day as the newsletter came through I had read a 1955 copy of Motor Sport and in it were pictures of the MGCC Chiltern Trial, one of the pictures was of C.O. Gregory driving a Ford 10 based Dellow look-a-like special with a square nose and cycle wings, its registration number being PPP 259. Barrie Kirton has sent a press cutting from Classic & Sportscar of November 1990 in which there's a letter from John Clarkson in which he suggests that 6 of these were built, but does this include the V8 engined monster?
13 November 2007. I received this email from Colin Gwyer, who is not an MCC member, out of the blue.
I have aquired a Gregory 1952 which over the years has seen many modifications and once I have done a few things to it will get trialing again. Do you have any information on how many were built etc. because it seems a bit of a rare motor?
20 November 2007. Followed-up by a further email from Colin a week later.
I bought the Gregory PPP 387 from Graham Price who did a few events in it including the '06 Clee Hills as shown on the results page of your website. Also on your site is an entry for the Derbyshire trial of 1966 with a Gregory, don't know if it is the same car. I have the old buff log book and some photos taken over the years that show the changes made to such items as the front wings. The car at the moment is at work while I find time to get some MOT items sorted.
14 December 2007. I then had a flurry of emails from Nigel Brown, who'd discovered this photograph …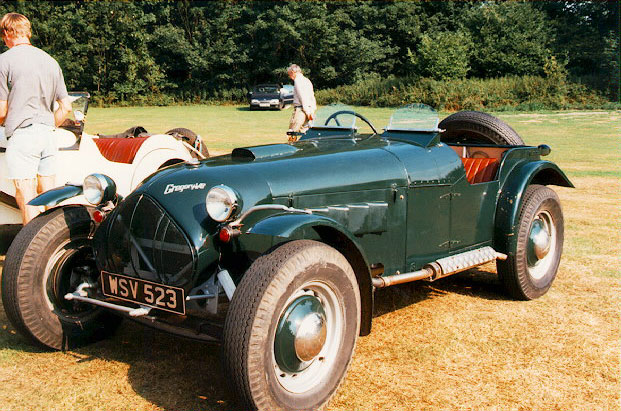 … and pointed me in the direction of this listing for the results of the H&H Auction at The Pavilion Gardens, Buxton, on 4th October 2000, although we cannot be sure that the photograph above is of the car being auctioned – it could be the "other" V8.
Lot : 54 : 1951 GREGORY V8 SPECIAL SPORTS

Estimate: SOLD for £5250
Mileage: 0800
Colour: GREEN
Trim Colour: SILVER
Chassis No: BM1002
Engine No: E71/7252129
Registration No: OKX 276
CC: 30 HP
M.O.T: 19.6.2001

This rare car was built by Bob Gregory in 1951 behind his father's pub, the 'Shaggy Calf' in Slough. Bob had previously worked at Lotus and James Boothby Motors, who both built race and hillclimb specials, and when JBM collapsed Bob went on to build eleven 1172cc Ford engined specials and two V8's, the first on a pre-war Ford chassis and the second, this one, around an entirely purpose built tubular space frame chassis.

Although used as daily transport and for holidays it was mainly for competition in auto-cross and trials events. In 1961 it competed at the Firle hillclimb, driven by John Kirby who finished only 0.70 of a second behind the legendary Jim Tiller in the Allard. Since being discovered in the mid 80's in Devon it has been restored to its former glory, a photographic record is included, and reunited with its original registration number.

The large history file also contains letters from his younger brother and photographs of other Gregory cars as well as magazine articles. Interestingly it is registered, both on the buff logbook and the V5 as a Gregory, and not a Ford, special and this is an exiting road going sportscar and a relatively inexpensive candidate, in the Allard mould, for many hillclimbs and trials such as Land's End and Exeter.
2 June 2010. I receive the following email from Josh Moss, of the well-known Stroud trialling family.
Hi Andrew. I have recently purchased the Gregory from Colin and will be mildly restoring it and then using it in trials. Just thought i would let you know. Josh.
29 November 2010. I stumble upon a page of the Flathead Meltdown website and there, right at the top of the page, is a photograph of Gregory OKX 276 owned and driven at the Shelsley meeting by Nick Leston – see John Aley's item from New of the Week 3 November 2007 above. This picture confirms that WSV 523 (photograph above) must be the V8 built on a pre-war Ford chassis, as described in the H&H Auction listing, and so, presumably, both V8 Gregorys still exist. But is Josh Moss's PPP 387 the only survivor of the eleven 1172cc Ford-engined Gregory specials?
Postscript 30 December 2021. The above was written over ten years ago, and Josh Moss campaigned PPP 387 successfully for a number of years. But, when I asked him recently (November 2021) why we hadn't seen the car for some time, he said that it was "tired and needed a lot of work".
This Post was originally published on 23 December 2015 as a Page on this website and is re-posted here with minor amendments.