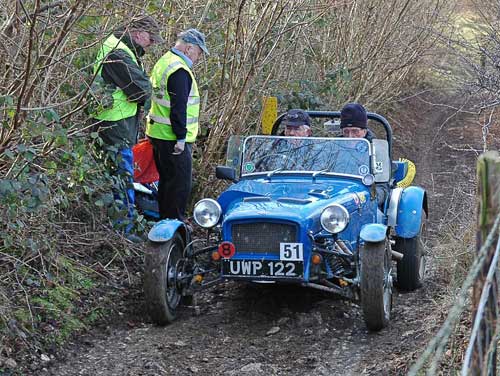 Stuart Harrold, in T6b/06, leaves the Bull Banks 1 restart
during the 2007 Cotswold Clouds Trial
Photograph by Dave Cook
The Troll T6 – A brief history by David Alderson
Purpose designed and built as a competition sports car with 'Classic Trials' application foremost in mind, the Troll T6 model is the nineteen-eighties/nineties equivalent of the earlier post WW2 Dellow or even perhaps the pre WW2 MG PB Midget. The Troll T6 is the brainchild of successful Classic Trials driver, Peter James, a formally trained aeronautical engineer and practicing silversmith.
James' T6 design, a development of his earlier T4 model, features a fully triangulated brazed small section box and round tube steel space frame chassis with semi-stressed floor and bulkhead panels. The front suspension is provided by unequal length tubular wishbones incorporating laterally angled coil-spring damper units. Steering is by rack and pinion provided by an Escort 'quick' rack. A modified Ford Escort live axle tube suspended on vertical coil-spring damper units located by unequal length twin trailing arms and a lateral Panhard rod thus creating the classic five-link rear axle location, provides rear suspension. Rose jointed linkages provide very positive location and the complete suspension system provides adequate articulation for trials usage whilst at the same time incorporating anti-squat/anti-dive characteristics making the car handle very well at high speed on loose or tarmac surfaces.
A Ford Kent cross-flow engine normally bored out to 1700cc and suitably modified for trials use provides motive power. The gearbox is also a Ford unit; normally the 2000E three-rail type providing four forward gears and a non-detent selected reverse gear. The braking system comprises nine inch front discs coupled with ten inch rear drums, a split hydraulic circuit allows the fitting of an outside hydraulic fly-off handbrake for use on section re-starts and timed tie deciding tests.
The Troll T6 is designed to run on fifteen-inch diameter central knock-off wire wheels and carries two spare wheels on a rear-mounted carrier. The bodywork is of riveted aluminium flat and single curvature panels with a moulded glass-fibre combined bonnet/nose section and cycle style wings. The fuel tank is mounted externally across the rear of the bodywork. In classic trials trim a Troll T6 tips the scales at circa 550kg and with a power output normally in excess of 110 bhp (subject to state of engine tune) provides a very handy power to weight ratio for serious hill climbing and timed tests.
In a production run spanning 1986 to 1995 a total of nineteen Troll T6 models were manufactured by Troll Engineering Ltd (a company jointly established by Peter James and Jim Templeton) at their Minehead factory, although at least four of these cars were actually supplied in component form and assembled by their owners.
In the twenty-two year history of the ACTC classic trials championships, Troll T6 drivers have taken the premier 'Wheelspin Trophy' championship on five occasions. Chris Reeson 1987, Tim Pearce 1993, Mike Chatwin 1995, David Alderson 1996, and Paul Bartlemen 2004. Between them Troll T6 drivers have secured numerous outright ACTC one day trial wins and MCC long distance trial premier awards over the past twenty years. With its purposeful, well-proportioned appearance and impressive performance both on road and on the trials sections, the Troll T6 captures the spirit of the leading cars of earlier periods in classic trialling history. Peter James designed and produced a car that has proved to be a worthy stable mate to the MG PB Midget, the Allard, and the Dellow. That is the brief he set for himself with the Troll T6, not an out and out freak trials machine, a competition sports car in the tradition of Classic Trials.
Origin of the name: Peter James is descended from Norwegian stock on his mothers side, his mother and father, a Minehead man, met and married in Minehead in 1952 but moved back to his mother's native Lillehammer where Peter was educated until the age of seven. The family subsequently returning to Minehead. Peter's Norwegian grandfather had many business interests including a bicycle factory where his two-wheeled product was manufactured and marketed under the name of Troll. In Norwegian legend a Troll is a type of goblin normally found high in the mountains. What better name could Peter have chosen for his charismatic snapping, snarling little goblin trials cars?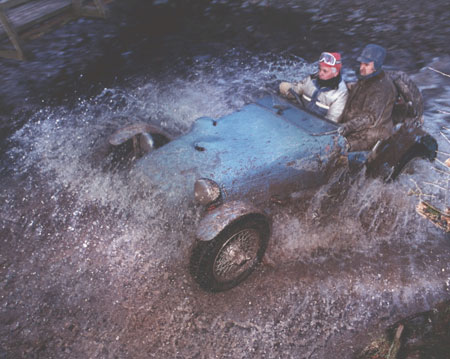 Jim Templeton driving, passengered by Peter James, in Troll T6/02 YMV 350
crossing the ford at Crackington on an unidentified MCC Lands End Trial.
The Troll T6 – Register
This been temporarily removed and will return shortly in a revised format.
The Troll T6 – in the motoring media
The Troll T6 – elsewhere on the internet
Troll T6 Register on Facebook. Started by Mike Ellis, in July 2019, this has very quickly become the best online source of photographs, videos, and personal history about the Troll T6.
Robert Ground's Flickr album. Includes a lot of photographs of Trolls and their owners, some taken as early as 1987. Magic stuff.
The Troll T6 – the story continues …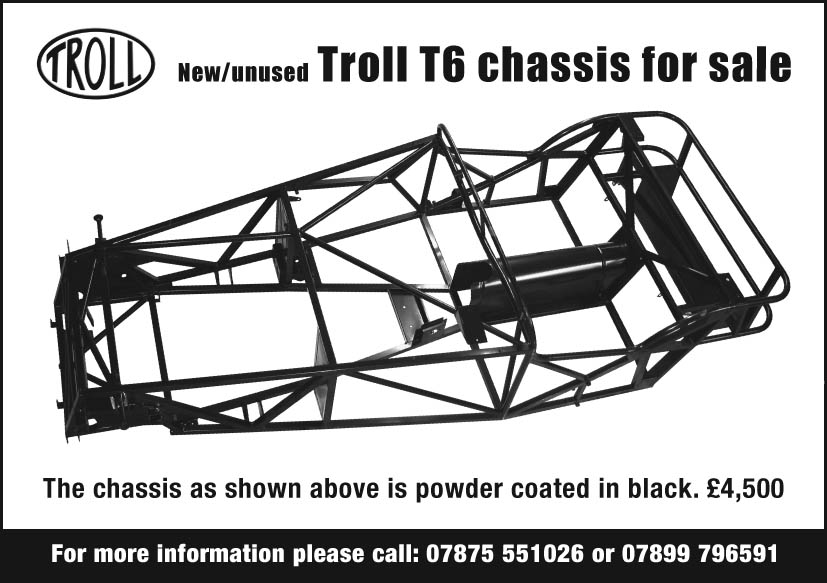 The advert above appeared on the Classical Gas web forum in April 2011.
When Peter James decided to stop producing the Troll T6, he agreed that more could be produced on license. The license passed through at least one other party before ending up with Mark Milne and Chris Hodgson in 2007 or thereabouts. They inherited five completed chassis, made by Arch Motors, from the previous licensee and the one advertised is one of these.
The terms of Peter's license were very strict regarding specification and build quality to ensure, as he said at the time, that "the reputation of Troll cars is not diminished by poor build quality and non standard construction". Each chassis had a stamp but the agreement was that Peter would not issue an official chassis number, maker's plate, or cast Troll bonnet badge until the car had been completed, inspected, and registered for road use. This means that no one is quite sure whether a completed car, never inspected by Peter, can ever be a genuine Troll.
For the latest on the whereabouts of the five Arch Motors chassis, please see the Troll T6 Register (above).
Page updated : 9 December 2022. Troll Miscellany extracted as a Trials Trivia post, Troll T6 Register temporarily removed, minor re-formatting, no significant changes to the text.