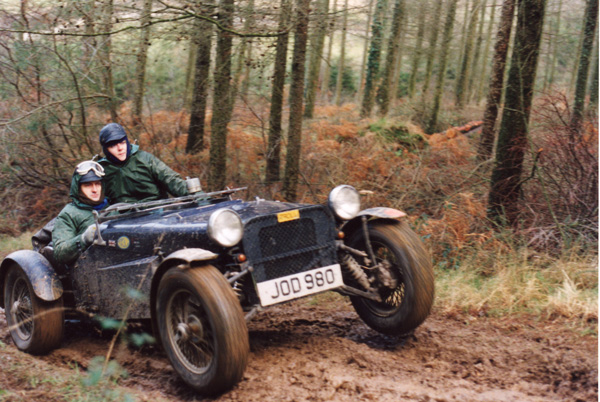 Peter James drives the T4, JOD 980, up Norman's Hump (we think) on an Exeter Trial
sometime in the late 1980s. With thanks to Mark Milne for providing the photograph.
During the course of creating the original Troll T6 page I had a lot of correspondence from Peter James and David Alderson about the other Troll projects and the information below has been updated over time.
T1 : An Austin Seven chassis, never completed.
T2 : A box-section chassis with MG J2 axles, never completed.
T3 : An Austin Seven chassis with a 1098cc engine, now broken up.
T4 : The first of the space-frame cars and subject to continual development (T4 to T4c). It started with a 1275cc MG engine, eventually ending-up with a supercharged 1380cc MG engine, Ford gearbox, and Ford back axle, in which state it was a multiple MCC trial winner. It was then sold to Chris Reeson, and fitted with a normally-aspirated 1275cc MG engine, but then re-acquired by Peter who intended to restore it with the correct supercharged 1340cc engine. It carried the JOD 980 registration before this was transferred to T6c/07. The remaining components of the car were sold, during 2014, to Kim Dear who is slowing acquiring the missing parts with the intention of restoring the car to the road in as close to its original specification as practical.
T5 : Again a space-frame car, but with Triumph Spitfire-based front suspension and a 1275cc BMC transverse engine/gearbox at the rear, the gearbox being the car's "Achilles' Heel". The engine/ gearbox was replaced with a 1430cc Peugeot 104 unit by Brian Cope, and the car renamed as the Peugeot Shuttle, in which form it was a highly-effective Class 8 Special for some years. The redesign caused quite a lot of acrimony between Peter and Brian, resulting in Peter telling Brian that the car should never, ever, be referred to again as a Troll.  Brian sold the car on to the Painter family in the mid 1990s; it was advertised for sale on eBay in early April 2011, at a Buy Now price of £5800; and it is now owned by John Plant.
T6 : See the Troll T6 page.
T7 : This type number was never used because Peter didn't want any confusion that his car was yet another Lotus/Caterham clone.
T8 : To be used if T6f/19 had ever gone into production.
T9 to T12 : Used for various one-off projects.
The text of this Post was originally part of the Troll T6 page but has been extracted and is re-posted here with minor amendments.